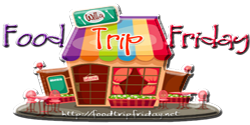 It's been a long time since I last joined
Food Trip Friday.
I'm happy that I have something to share this week. I have been low around my kitchen for the past weeks.
I'm just HAPPY to be back!
I prepared two dishes from separate Fridays.
The first one is a Veggie Carbonara. It'spasta with bell pepper, lots of mushrooms and green olives in white sauce. I added some sweet ham to add flavor.
The next dish is our usual burger steak. It's burger patty topped with mushroom sauce. For an
Easy Mushroom Gravy
recipe please click the link included.