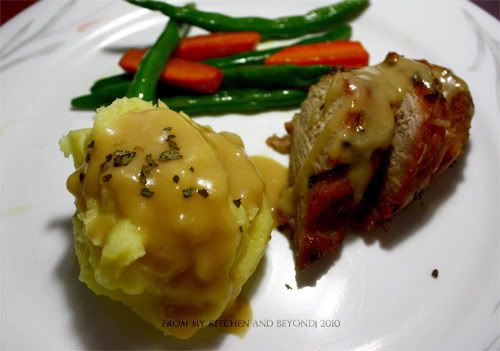 Once again, just the same with my recent posts this was my first attempt on making mashed potatoes. Last Sunday, I made some to match my roast. Making mashed potatoes is very easy. You can do it everyday as long as you have potatoes in stock. So creamy that you don't even need gravy. But okay...whatever we do, gravy is a must, so I included my easy gravy recipe too.
Ingredients:
5-6 medium to big size potatoes peeled and washed
Pinch of salt
1/2 c milk
4 tbsp melted butter
A dash of your favorite dried herb
Important Materials:
Potato masher/ heavy fork
Puree potatoes using a food processor, an electric mixer or a blender
How To:
Boil peeled potatoes in a sauce pan until cooked.
Drain water. In low fire, dry potatoes using the very same sauce pan. Then turn off fire.
Once potatoes are dried up, mash each using a potato masher or use a fork.
Transfer mashed potatoes in a bowl, with an electric mixer, just mix away pouring melted butter, salt , dried herb, and milk little by little until desired texture is reached. (follow same procedures if you're going to use a food processor or a blender)
0o0o
Gravy
1 1/2 tbsp butter
3- 4 tbsps Knorr Original Seasoning
dash of salt and ground pepper
1 cup water
2- 3 tsps all purpose- flour
Note:
If you don't have Knorr Seasoning, you can use soy sauce. Mix 1 c water with all purpose flour.
Melt butter
Add sliced mushrooms (if desired)
Add Knorr Seasoning
Stir for a few seconds
Add thickening agent ( water and flour mixture). Mix on low fire.
Add salt and pepper to taste.
Servings: 4-5
Enjoy Your Weekend Potato Lovers!!!