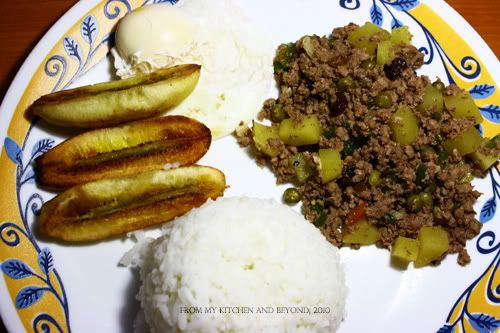 Arroz a la Cubana is originally a Spanish dish which consist of fried eggs and tomato sauce. Here in the Philippines, we saute ground beef or any lean ground meat with garlic, onions, potatoes, carrots , some peas and we mix it in either tomato sauce or oyster sauce. My version contains raisins and instead of carrots I used chopped bell peppers. Served with hot rice, egg, (preferably fried) and slices of banana fritters.
Ingredients:
1 kilo lean ground meat
3 tbsp oyster sauce
2 small bell peppers chopped
2-3 tbsp raisins
2 tbps olive oil for sauteing
1/4 cup fresh green peas
3 medium potatoes (diced)
5 cloves garlic (chopped)
1 medium onion (chopped)
1/2 cup water
salt and pepper
How To:
Pre-cook meat and diced potatoes by boiling in water drain then set aside.
In a pan, saute garlic in olive oil until light brown.
Add onions and stir for a few seconds.
Add cooked meat and potatoes and stir for about a minute.
Add oyster sauce, bell pepper, raisins, peas and the 1/2 cup of water.
Stir everything together for about a minute or 2.
Add salt and ground pepper to taste.
*Cardava Banana (Saging Saba) sliced then pan fried
*Eggs (sunny side up)
Serve with hot rice, egg and banana fritters.
Servings 4-5