I'm proud to share that I was able to come up with another pasta recipe of my own without giving myself a hard time with the preparation. That's right folks, here's another easy pasta recipe.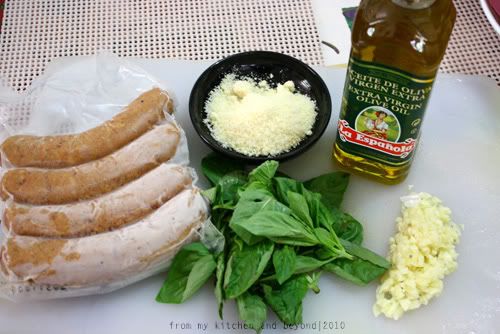 Ingredients:
300g Linguini
1 whole garlic minced
1 cup chopped fresh sweet basil
2-3 tbps grated Parmesan cheese
3-4 tbsp extra virgin olive oil
2 Hungarian Sausages chopped
3 medium red tomatoes chopped into quarters
Ground Pepper
How To:
In a sauce pan, boil water and simmer pasta until half- cooked, do not drain.
In a separate pan, saute garlic until light brown.
Add chopped Hungarian Sausages. Stir for a few seconds.
Add chopped tomatoes and stir again for a few seconds.
*From the other pan, using a pasta ladle or a slotted spoon, slowly transfer cooked Linguini to the pan of sauteed mix of garlic, sausage and tomatoes. Mix everything together in low fire.
Add grated Parmesan Cheese and Chopped Fresh Sweet Basil. Add Olive oil if needed.
Add ground pepper to add flavor.
* NO SALT!
Now that's an instant Pesto Mix by the way. Top every serving with more Parmesan cheese. To add, this is also perfect with a slice or 2 of wheat bread.
Servings: 3-4