It may look like a common Beef Mechado dish for some, but once you taste, it's going to be something new for your palate. I researched online for low salt, low fat dishes and one of the easiest recipes I found is Beef Stroganoff.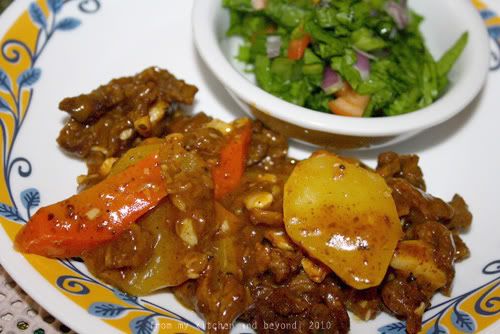 Please
click on the link just below the picture for the recipe
. To make the dish look more appetizing I added some carrots, potato slices and Annatto or Atsuete for color. Great colors for
Halloween Contact Lenses
. By the way, Annatto produces a reddish pulp which contains the seeds that is often used both as a coloring agent and for flavoring. And I prefer serving it with rice instead of noodles or pasta.
If you get to view the original recipe, you won't believe that it can taste so good even without salt. The key ingredient to a Stroganoff dish is the sour cream. Perfect with your healthy green salad and hot Jasmine Rice.