So what did I eat last Friday? Hmm...O yeah, I was in the hospital looking after my husband. One thing that made my hospital stay a bit interesting was the food. The whole week, I wasn't able to eat any home-cooked meal. Since it was a sudden incident nobody was prepared for it. So I thought, I will be fine with fast food for the mean time. On our 2nd day, after delivering the patient's meal, another person dropped by. This time, he was selling packed meals complete with vegetables, rice and another viand. His cart was also full of different drinks and desserts to choose from. And believe me, that food cart was one of the things I looked forward to until our last day in the hospital. From breakfast, lunch to dinner. It saved me time and energy from going up and down going to the food court of The Medical City.
So last Friday, I started my day by getting myself a hot caffè mocha from Starbucks, and waited for the food commissary guy.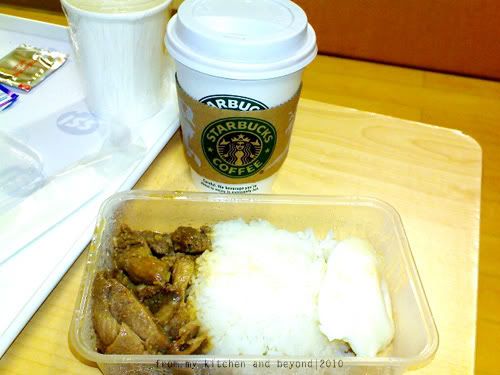 I got Tapa with poached egg, and enjoyed breakfast with my other half. Lunch time, I skipped the food cart and had sushi which was given by a very good friend.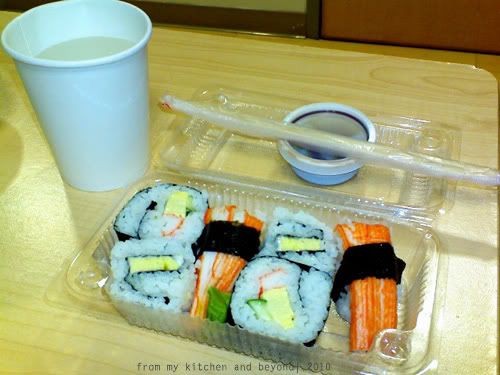 While in the hospital, I was also keeping myself busy looking for
custom business cards
. It's one of those things, thinking of ways to make it easier for people to look for my blog. A card would come in handy.
For dinner...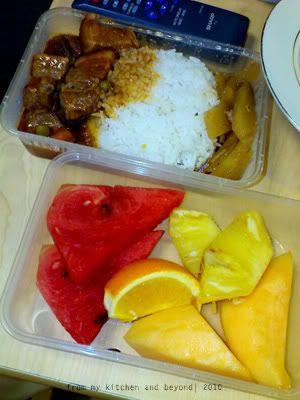 Pork Afritada with Sauted Chayote sounded and looked great. A pack of fresh fruits made it more enticing. These kept me full last Friday. The selection from the food cart was inviting. If I can only taste everything. Yes, I can say that it was a food trip.
Photos: SEP990i