It's my first time to cook this Filipino dish. Adobo is the most famous Filipino viand. Ask anybody in the world related to a Filipino, most probably the first thing they'll answer about Filipino food is Adobo.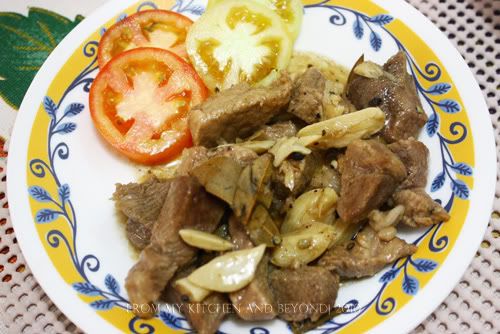 This kind of Adobo is basically cooked without the soy sauce which is the main ingredient in the original recipe.
Ingredients:
1/4 pork cutlets
1/2 cup coco vinegar
1/2 tsp black pepper granules
2-3 psc. bay leaf
1 1/2 cup water
salt to taste
*Just boil everything together.
With my Adobong puti, I followed my usual adobo, minus the soy sauce. Boiled all the ingredients, when the pork's done, I separated it from the sauce, fried it in a small amount of oil and added the rest of the sauce again, then simmer for a few more seconds.