I just couldn't bear it, I need to have some more. Sbarro's Chicken Parmigiano inspired me to make my own. Another good news, my oven is now working!!! Chicken Parmigiano was taken after "Parmigiana" meaning: slices of eggplants layered with cheese and tomato sauce then baked.
-source-
One attribute that brought out the name Parmigiano is the use of Parmesan cheese in the recipe. In some countries, chicken parmigiano is serve to top a plate of pasta.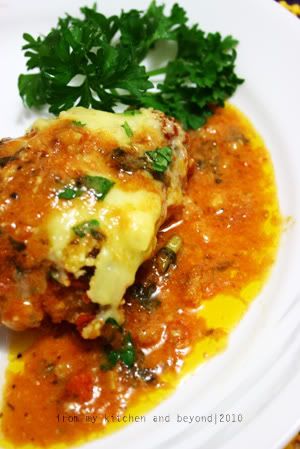 Ingredients:
6 pieces chicken breasts fillet
Extra Virgin Olive Oil
2 Cups Grated Parmesan Cheese
1 Cup Quick Melt Cheese or Mozzarella Cheese
1 Can (26oz.)Del Monte Italian Herb Chunky Sauce
1 tbsp chopped fresh basil
1 tbsp chopped fresh parsley
2 eggs (beaten)
1/2 cup flour
1 Cup bread crumbs
1 whole garlic minced
450g Linguini
1/2 tsp Ground Pepper
*Baking Dish
*Frying Pan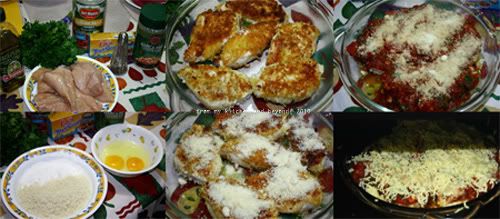 How To:
Season Chicken Breasts with pepper
Dip each in egg, coat with flour, dip again in egg then coat with bread crumbs.
After coating all 6 chicken breasts, heat about 1 tbsp of olive oil in a frying pan.
Fry each side of chicken until golden brown. Set in a baking dish.
Sauce:
In a sauce pan, saute minced garlic until light brown
Add Italian Herb Sauce stir while simmering for a few seconds
Add chopped basil and parsley
Add 1/2 tsp pepper and simmer for a few seconds.
Drizzle olive oil on browned chicken.
Top with Parmesan cheese
Pour prepared sauce on chicken
Top it again with another round of Parmesan cheese
After the Parmesan cheese, cover it with grated quick melt cheese or mozzarella cheese
Bake at 350 degrees for 15-20 minutes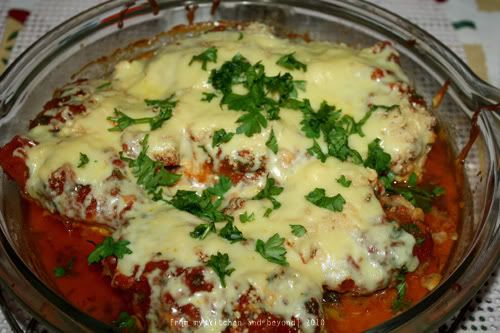 Servings: 6
Garnish with parsley and more cheese. Best with any pasta.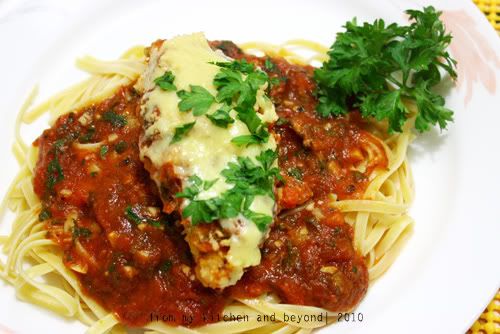 Note: An easier way instead of baking, is covering the dish with foil while hot and melt the cheese away.
ENJOY!