Just 2 weeks ago, I drove all the way to SM North Edsa. After browsing for some
plumbing
materials in a hardware store, then after I got myself a book from Fully Booked, I went around to scout for some restaurants which I haven't tried yet. At The Block of SM North, you will find lots of restaurants. One of them is Banana Leaf. I got very curious with the name, why is it Banana Leaf, first thing that went on my mind, maybe they serve their food using a banana leaf.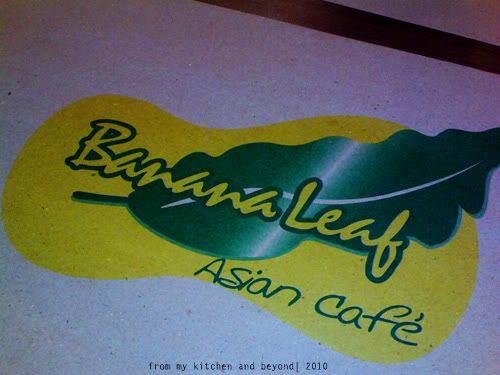 It would have been an easy guess. My theory was close, but it's the other way. And how they made use of the banana leaf was a fantastic idea to make the whole dining experience be touched with a Filipino twist.
Banana Leaf is a restaurant that serves a taste of Asia by introducing to its diners cuisines from Malaysia, Singapore, Thailand, India, Indonesia and Vietnam.
-source-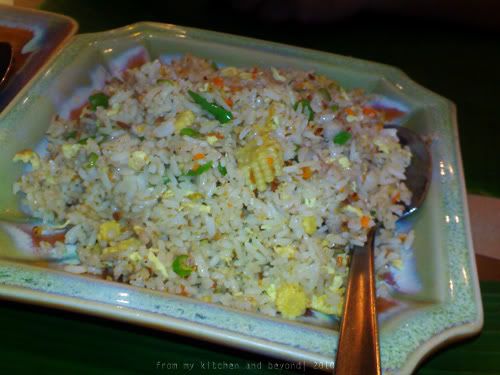 First thing we looked at the menu was their set of rice dishes. To lay -off from the usual Yang Chow Fried Rice, I ordered Vietnamese Fried Rice and requested not to put salt. Vietnamese Fried Rice is at php188 and it is already good for 3 per serving. Mix of cauliflower, baguio beans, carrots and chicken bits.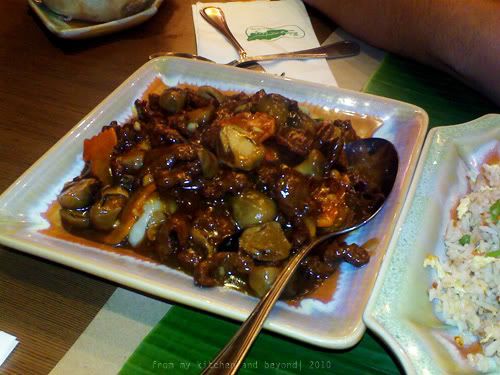 Next on the menu was an order of Banana Leaf's
Stewed Beef In Oyster Sauce. at php198
Another dish that's good for 3 people.
Beef mixed in oyster sauce and straw mushrooms.
It was a big surprise for me when I saw the mushrooms. Because on their menu, it wasn't described that it's serve with straw mushrooms, and any mushroom falls under my favorites.
Last dish I ordered was the Thai Green Curry Chicken with Eggplant and Sweet Basil at php 208. This dish was the ultimate for the evening. The scent and the taste of sweet basil mixing with the curry's spicy flavor made it exotic. The soft eggplant added balance to the dish. It was very rich.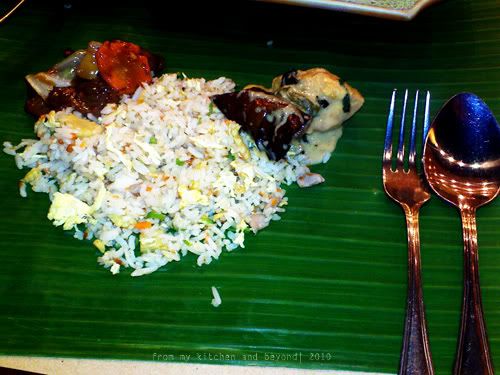 To enjoy the whole dining experience, the banana leaf served as my plate for the night. As I indulged with the mix of hot dishes, the scent of the banana leaf itself made my meal and my first Banana Leaf experience sweeter.
Photos taken: SE P990i