I actually made to kinds of Baked Mac over the weekend. First is the regular baked mac. Then, I experimented on the next one.
There are 2 steps to follow. Making the basic Macaroni Dish and Adding The Béchamel Sauce or simply White Sauce before baking. Honestly, it was my first attempt on making my own Baked Macaroni. I really promised myself that this is going to be one of the first dishes to prepare once the oven starts working again.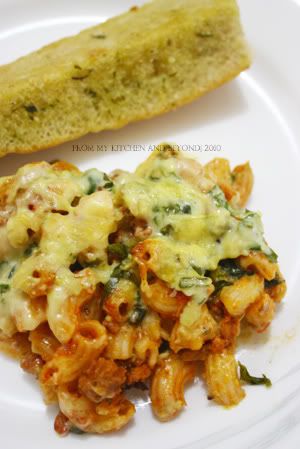 I. Ingredients: Regular Baked Macaroni
400g Elbow Macaroni
1/2 to 1 kilo Italian Spaghetti Sauce
1/2 Ground Lean meat
2 tbsp Extra Virgin Olive Oil
5 cloves garlic minced
1 medium onion chopped
1 big green bell pepper chopped into small pieces
Ground black pepper and salt
Your favorite cheese
How To:
In a sauce pan, cook elbow macaroni, then set aside.
In another sauce pan, saute garlic in EVOO until light brown.
Add chopped onions and lean meat. Stir and simmer until meat is cooked.
Add chopped bell pepper and stir for a few seconds.
Add Italian Spaghetti Sauce
Then salt and pepper to taste.
Mix enough sauce with the prepared elbow macaroni then set in a baking dish.
II. Ingredients: Béchamel Sauce or simply White Sauce
1 cup Cream of Mushroom
1 tsp flour
1/2 cup fresh milk
1 tsp butter
1/2 cup heavy cream
How To:
In a sauce pan, melt butter on low fire.
Add cream of mushroom, then blend well.
Add heavy cream, then blend well.
* mix 1 tsp flour in 1/2 cup fresh milk. Blend it together then pour in the sauce pan.
Once done, pour everything on top or in-between the layers of your prepared macaroni in baking dish.
Top with your favorite cheese.
Bake at 350 degrees for 15-30 minutes.
Servings: 4-5
Perfect dish for the weekend bonding with the family. Served mine with some freshly toasted Pesto-Garlic Bread from French Baker. Yum! After baking, I noticed that the sauce holds everything together once it's cooled down (room temperature). But I'd rather serve it smokin' hot while the Béchamel Sauce and melting cheese are settling in.