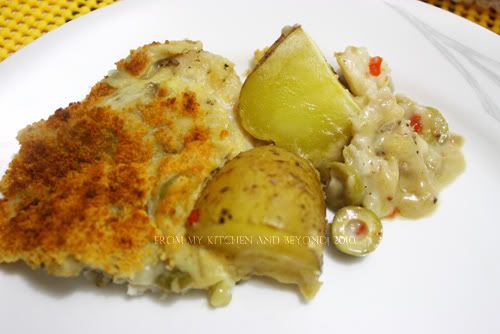 Ingredients:
Fish Fillet of your choice. (I used 2 chunks of Dory Fillet)
4 tbsp Extra Virgin Olive Oil
1 tsp rosemary
1 pouch Cream of Mushroom
10 pcs button mushrooms chopped
10 pcs pitted green olives chopped
5 cloves garlic minced
1/2 cup fresh milk
2 1/2 tbsp flour
1 tsp butter
salt and pepper to taste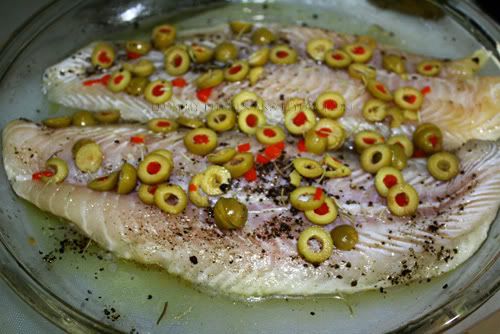 How To:
* dissolve Cream of Mushroom in tap water as instructed in the packaging.
Grease baking dish with EVOO (a healthier option than cooking spray or butter)
Set fish fillet, then season the top part with EVOO, rosemary, chopped olives then salt and pepper
In a sauce pan, saute minced garlic in 1 tsp butter until light brown.
Add chopped mushrooms and stir for a few seconds.
Add Cream of Mushroom mix dissolved in tap water, simmer for about a minute.
* Mix 2 1/2 tbsp flour in 1/2 cup milk blend well
Add flour and milk mixture in the sauce pan with the cream of mushroom.
Simmer in low fire and until the sauce is thick.
Pour sauce over fish fillet.
Top with Parmesan Cheese.
Bake for 20-30 mins at 350 degrees.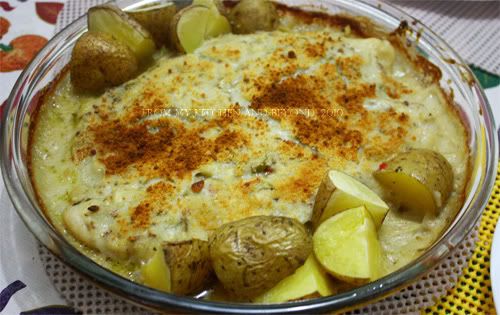 Serving: 3-4
Baked to perfection. It was very rich and creamy. The smell of the chopped olives and rosemary combined will make you drool. The fish was firm on the outside but so soft with every bite. You will recognize every flavor that came from all of the ingredients.