I was having second thoughts a few months back if I should post a simple Filipino Spaghetti Recipe or not. Since almost everyone knows how to cook Spaghetti, I really didn't pondered on posting it that much, until I found out that people are searching my food blog for a Pinoy Spaghetti recipe. I should really consider changing my site's domain and research on
blog web hosting
. Anyway, here I am, and as promised I am going to make this recipe easy. For our friends from other countries and would love to try our Filipino Spaghetti, you can use your regular Spaghetti Sauce just add sugar, banana ketchup and the rest of the ingredients like some sausage bits.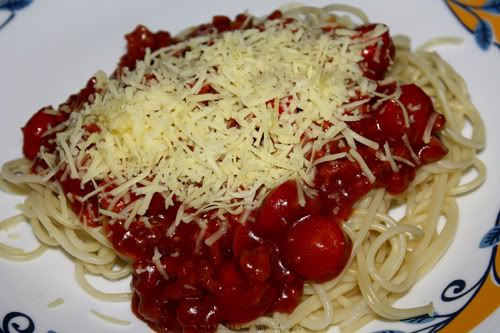 There's no doubt that spaghetti is one of the few that Filipinos love the most. We Filipinos were able to concoct our own. Famous as the "Filipino Spaghetti" or "Pinoy Spaghetti", our spaghetti sauce is composed of different ingredients. From the usual Spaghetti sauce, most of us also include ketchup to add flavor and to improve the consistency of the sauce. We also add sugar, hotdog or sausage bits, aside from the ground meat that's also a highlight. And to top it, we use our local cheese.
Recipe?

My Pinoy Spaghetti was kinda different, because I didn't add catsup. I used Del Monte's Filipino Style Spaghetti Sauce instead.
* for every 1 Kilo of Ground Lean or any Ground Meat, I boil 1 Kilo of Spaghetti, I use 2 Big Pouches of Del Monte Filipino Style Spaghetti Sauce (which is equivalent for 2 Kilos of pasta) For me, I'd rather keep more of the sauce in my fridge, than left-over pasta without any sauce.
Ingredients:
1 kilo spagahetti (pasta al dente, set aside)
5 cloves of garlic (minced)
1 medium onion chopped
1/2 kilo regular hotdog (chopped) or 4 small cans of Vienna Sausage (chopped)
1 kilo ground lean meat (pre-boiled)
1 can button mushrooms (chopped into small pieces)
3 tbsp olive oil
1/2 cup water
1 tbsp sugar
Grated cheese
How To:
In a sauce pan, pour olive oil and saute garlic until light brown, then add chopped onions.
Add pre-cooked ground meat stir for a few seconds.
Add chopped hotdog or sausages and mushrooms, stir for about a minute.
Add 1/2 cup water and simmer for about a minute
When everything is cooked, add the Filipino Style Spaghetti Sauce and stir for 30 seconds
Add salt and pepper to taste, simmer again for a few seconds (add water if needed)
note: Since the Spaghetti Sauce is already sweetened, just add sugar to obtain your preferred sweetness.
Pour sauce on your pasta and top it with your favorite grated local cheese. I like Eden Cheese.