In the mood for something different on a Friday? It's been a long time since I cooked something with white sauce. Most of the time, I go for Tuna as my main ingredient. But today, I prepared the usual Carbonara recipe. Which is: White sauce with bacon and garlic bits.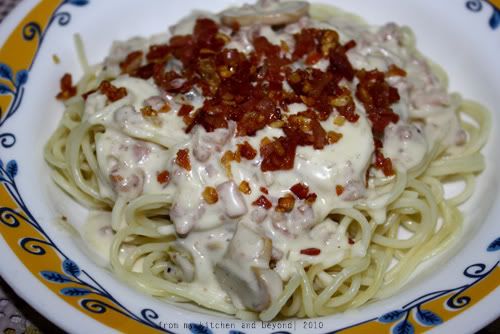 As researched, the original recipe for Carbonara is a mixture of eggs, cheese, and butter or olive oil mixed with the pasta, the pork is added to the pasta later. I'm still figuring out how to make the perfect egg sauce though. When I was in college, it's one of the sauces that I wasn't able to try during our food functions.


With my recipe I got rid of the butter then I lessened the cream and added milk instead.
Ingredients:
450g spaghetti (pasta al dente)
1/4 kilo ground lean
1/4 kilo sweet ham ( minced)
1/4 kilo bacon (minced)
3 tbsp olive oil
2 cups all purpose cream
1/2 cup fresh milk
1 can button mushrooms (sliced)
1 can cream of mushroom
2 whole garlic (minced)
1 medium onion (chopped)
salt and pepper
How To:
Toppings:
In a separate frying pan, pour little oil and saute 1/2 of the minced garlic until light brown
Add 1/2 minced bacon and ham
Fry everything together until golden brown
Drain excess oil and serve in a separate bowl
Main Sauce:
In a sauce pan saute the remaining minced garlic until light brown
Add onions and stir for a few seconds
Add the ground lean, the remaining minced bacon and ham
Stir until cooked
Add the cream of mushroom and mix it well with the meat
Add 1/2 cup fresh milk and 2 cups of purpose cream
Stir until well blended. Continuous stirring is required for about a minute and in low fire.
Salt and Pepper to taste
Set aside
Food Trip Friday