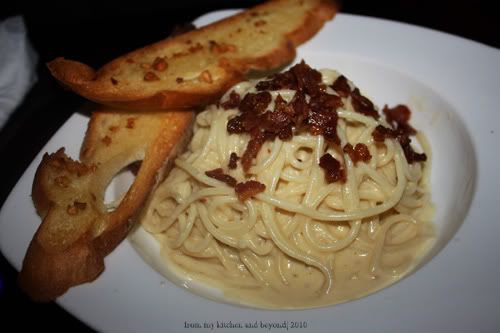 So what makes this common Carbonara extraordinary?
While waiting at the Peguin Bar, I ordered this pasta for dinner. I was just thinking that it's going to be the typical "creamy" Carbonara. I do love this pasta dish, but the sauce really matters to me.
Most of the time, if it's not homemade, I often encounter Carbonara sauces that are too thick or too heavy to a point that I get fed up easily that I don't want to finish it. The usual Filipino terms are: "nakakasawa, minsan nakakahilo".
But this featured pasta dish is different. The sauce was not as heavy, still creamy and rich and at the same time, it gave me that "Carbonara satisfaction". The toppings were composed of mixed roasted bacon bits and garlic. You'll never know which is the bacon and the garlic until you taste it, and it's delicious.
It just so happen that the chef is already a friend of my husband. So when he passed by our table, I had the privilege to ask him about his secret regarding the Carbonara sauce. The chef knows my concerns on how creamy a Carbonara dish should be, and I'm glad that even for a professional like him, he's very much aware of things like the sauce for instance. I'm still not sure if I should share his secret, maybe you should visit The Peguin Bar and try every pasta dish they have on the menu. He is a very nice Chef.
The Penguin Bar
new location at 9815
Kamagong St. Makati City