Aside from sweet Pomelo, packs of Fresh Tuna Belly flew in just a few days ago from Davao. There are plenty of ways to enjoy Tuna. It's a good ingredient to make Sushi, best if grilled, baked or even pan-fried. The dish I'm sharing is one of the easiest way to enjoy a good tuna meal.
How: Drizzle tuna belly with olive oil, salt and pepper on both sides, calamondin juice and 1/2 tsp of oyster sauce. All you will be needing is a dry frying pan and let the olive oil and the natural oil from the fish do the work.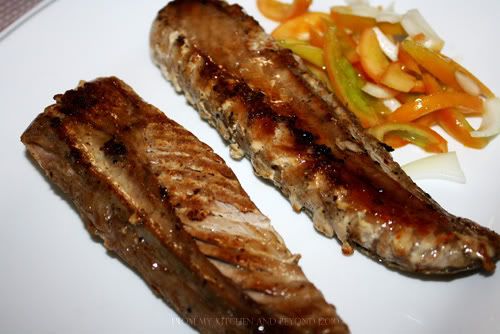 Not only it's healthy, but it came out Perfectly, just how I like it. Served with hot rice or partner it with your favorite 'cold' beer and DVD.