It's an instant recipe from my kitchen. Once again, I just grabbed whatever I have in my pantry and fridge and made the most out of it.
To describe: It's just chicken cream over your pasta.
* Best served with spaghetti, angel hair pasta, Penne or Fettuccine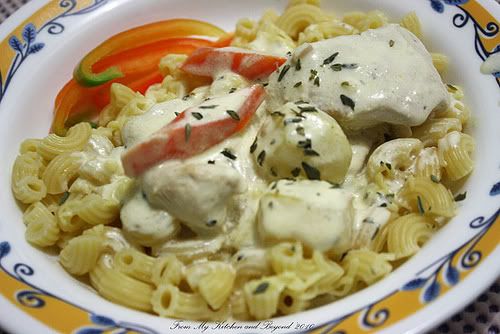 Ingredients:
1/2 kilo Chicken Breast fillet (skin removed) (about 10 pcs of 2 " slices)
1 tsp butter
2 tbsp olive oil
5 cloves garlic minced
1 medium onion chopped
1 medium carrot chopped
10 pieces baby potatoes, peeled
1 whole bell pepper sliced thinly
1 1/2 cup all purpose cream
1/2 cup fresh milk
1/4 cup water
1 tsp thyme (dried or fresh)
grated cheese
salt and pepper to taste
450g macaroni or any pasta of your choice
How To:
* In a separate pan cook pasta.
In a sauce pan, saute garlic in olive oil until golden brown
Add chopped onions and stir for a few seconds
Add chicken breast, set from medium to high fire stir continuously until half-cooked
Add thyme and butter
Add baby potatoes and carrots, stir continuously for another 5 minutes
Then add fresh milk and water
Simmer until everything is cooked
Add all purpose cream and set on low fire
When sauce is thick, add sliced bell pepper then add salt and pepper then set aside
* Plate some of the cooked pasta, top it with grated cheese then add 2 pcs of chicken breast from the sauce then pour some sauce over it, add more thyme.