This is my first time to make a milkshake using an experimental recipe. To be honest, I even asked my sister's opinion if I'm doing it right or not. Well, everything went well. Consider this as my final recipe.

Bought fresh strawberries from the summer capital of the Philippines, Baguio. Thank God it was handed to me fresh and sweet. I was having doubts on its freshness. Some weeks ago it was reported that Strawberries from Baguio were already dying out.
They're very abundant right now and very cheap.
For my milkshake, I prepared an easy recipe. As usual. Most of all, I made it healthy by not including any additives like strawberry flavorings and coloring.
Main ingredient: Lots and lots of fresh Strawberries!
Main Kitchenware: Heavy Duty Blender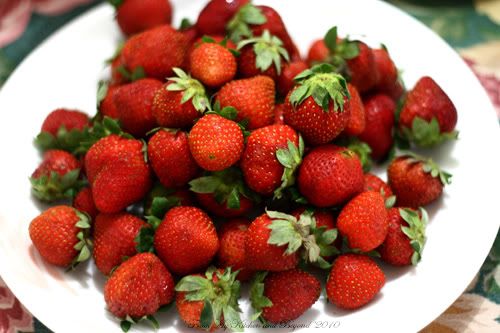 1 Cup fresh strawberries
1 Cup Fresh Milk,
1/2 Cup Sugar or 10 packets of any sweetener of your choice,
1 Cup Strawberry Ice cream or Vanilla Ice cream
Ice Cubes or crushed Ice