In observance of the Lenten Season, and as part of a tradition, every Friday, I make it a point to serve fish and vegetables or chicken to the very least. Some Friday ago, I opted for 2 kinds of vegetable dishes. Garlic Mushroom served with fresh Radish Salad.

If you're a traditional person, it's also a good option to serve veggies over veggies. One that can stand as main viand or main dish, and the other as a side dish.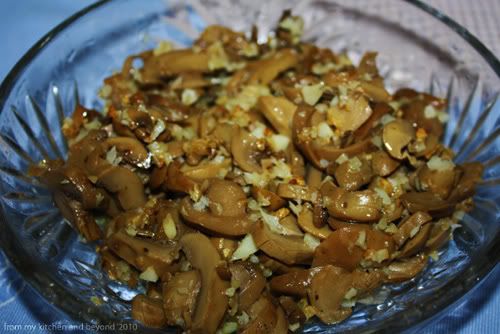 Perfect with hot, fragrant Jasmine Rice.
Radish Salad:

(radish, tomatoes, onions, cane vinegar, ground pepper, salt and 1/2 packet of Splenda.*Slice radish, tomatoes and onions in thin pieces. Set in a bowl season with cane vinegar, salt, pepper and Splenda.

Garlic Mushroom:

Any mushroom of your choice whole or in pieces, olive oil, minced garlic, salt and pepper.* Saute garlic in olive oil until golden brown, add mushrooms, stir for a few minutes then, add salt and pepper to taste.
Happy eating!
What do you have for us this Friday? Join us at:
Food Trip Friday