As requested by...
It's "the" Filipino dish that I never really liked because it's spicy. But to be honest, I haven't even tried tasting it. One evening, I got a call from my husband asking me, if I know how to cook Bicol Express. Obviously, the answer is no, but I know for a fact that it is an easy dish to prepare. So, I said, okay, I'll try my best to be able to nail a good Bicol Express just for you. Knowing my husband who loves spicy food and hot dishes, I just gotta do it and get the right flavor.
Bicol Express is known to be one of the hottest dishes served from any busy Filipino Kitchen. It is a pork stew cooked with chopped green chili (siling mahaba), coconut milk, shrimp paste, onion, pork, and garlic.

I mixed my recipe with 2 kinds of Chilies:
Siling Haba
(green chili) and
Siling Labuyo
(Bird's Eye Chili in some countries)
Ingredients:
1/2 K pork cutlet (chopped into small pieces/ menudo cut)
1 cup coconut milk (you can add more coconut milk)

1 cup water
1 tbsp shrimp paste
5 cloves garlic (minced)
1 small red oinion (chopped)
1tsp minced ginger
8-10 pieces green chili (siling haba)
(5 pieces green chili - (seeds removed then soaked for 15 minutes, chopped)
(3 pieces green chili - (seeds removed then chopped)
5-6 pieces red chili (siling labuyo) (minced)
1 medium red bell pepper (sliced)
salt and pepper to taste
2tbsps olive oil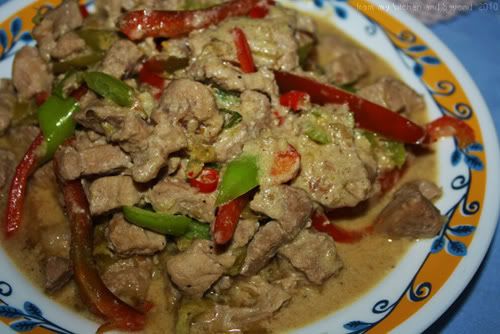 How To:
In a pan, saute garlic in olive oil until light brown.
Add chopped onions and ginger, stir for a few seconds.
Add pork pieces, stir for about a minute.
Add 1 cup water and simmer until pork is half-cooked.
Add

soaked chopped green chili

and add 1/2 cup of water.
Simmer until pork is cooked.
Add coconut milk, simmer for a few minutes until thick.
Add red chili and red bell pepper, simmer for about 2 minutes in low fire.
Salt and pepper to taste.
Add remaining freshly chopped green chili. Stir again for a few seconds.
Best served with hot Jasmine Rice.
Enjoy! and what do you know, it is now one of my favorite Filipino dishes. It was so good... It was very hot and it was very delicious.